Patients with unexplained dyspnoea may have PAH1
Patients with unexplained dyspnoea (breathlessness), for which common causes have been excluded, could have PAH and should have their symptoms investigated until a cause is found.3 Breathlessness that does not respond to chronic obstructive pulmonary disease or asthma treatment after 4 weeks requires further investigation and may require referral to a PH expert centre.4–6
Questions to ask patients with unexplained dyspnoea


---
The following questions will help you gain a better understanding of the extent of your patient's breathlessness and how it may be progressing:
If you have to climb two flights of stairs, two at a time, how do you feel at the top?
How does that compare with the recent past?
Do you ever feel tired or breathless after getting ready in the morning or playing with your kids?
If you rush to answer the phone does it take you long to speak normally again or do you remain breathless for some time?
Have your friends and family noticed that you have become breathless lately, or more often?
Though you say that you are feeling well generally, how are you when you have been for your regular exercise compared with a year ago?
Do you find yourself breathless more quickly than previously?
Do you take longer to do the housework than you did a year ago?
Do you put off the housework because of this or other reasons?
Do you find yourself avoiding excursions or activities in case you experience breathlessness?
Do you use the lift rather than the stairs?
When was the last time you climbed more than one flight of stairs?
Diagnostic algorithm for patients with dyspnoea


---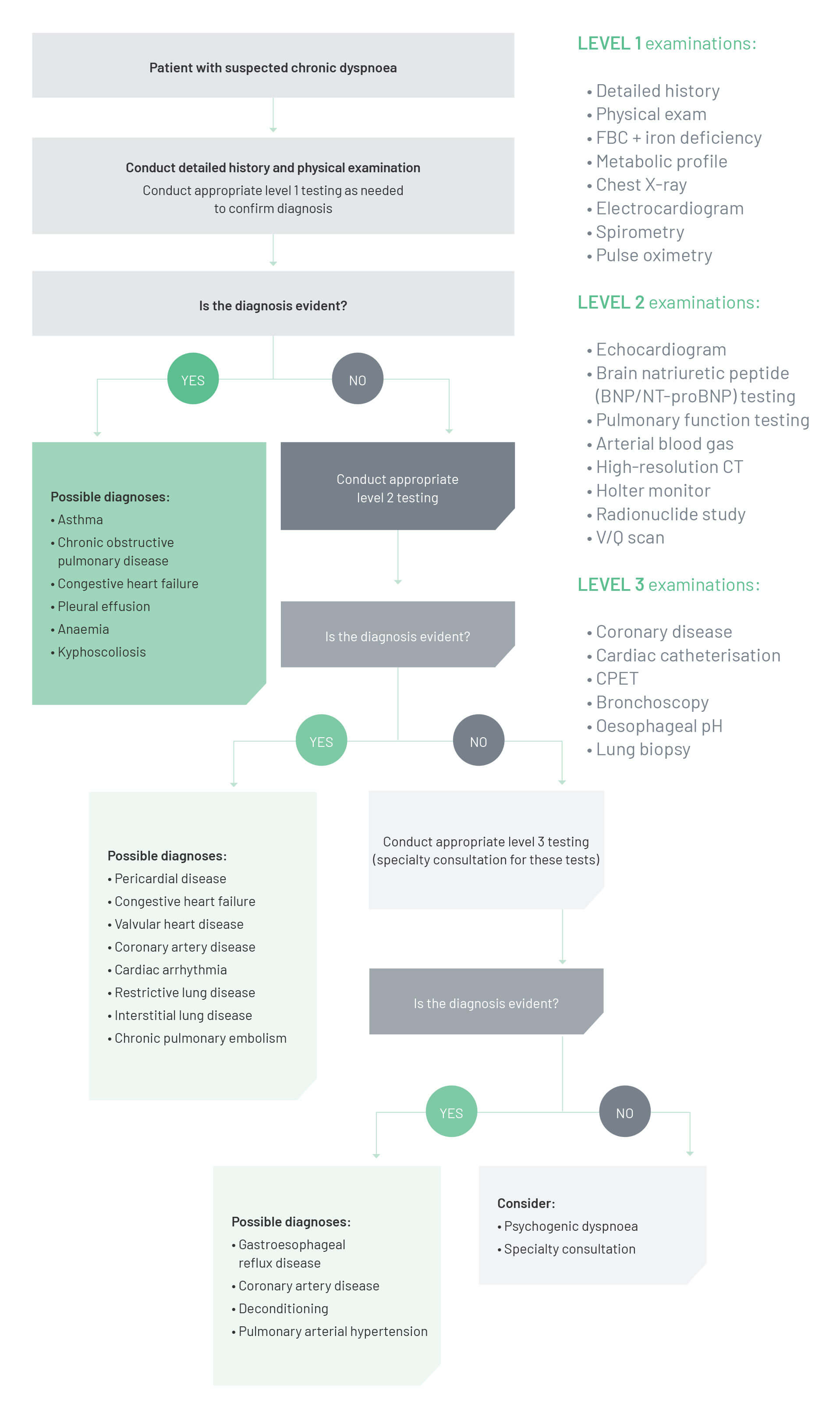 Adapted from Karnani NG et al. 2005.3
---

Systemic sclerosis (SSc)
Systemic sclerosis (SSc) is an autoimmune connective tissue disease affecting multiple organs.
PAH is a well-known cardiopulmonary complication of SSc.
About
1
in 10
SSc patients will develop PAH during their lifetime.7
PAH is a
leading cause
of death in SSc-PAH,and mortality in these patients remains unacceptably high.8
Almost
70
%
of SSc-PAH patients die within 5 years of diagnosis.*9


*Australian Scleroderma Cohort Study (2009–2015; N=132) 9
Annual PAH screening is recommended for SSc patients9


---
Annual cardiopulmonary screening is recommended in all patients with SSc, to identify patients who should have a right heart catheterisation to diagnose potential PAH.9 Screening in SSc populations enables earlier diagnosis of PAH, facilitating earlier intervention and improving long-term survival.10
 
The Australian Scleroderma Interest Group (ASIG) has proposed an algorithm for screening SSc patients for PAH.11 It utilises the biomarker NT-proBNP, which is an indicator of ventricular wall stress and is measured by a simple blood test. 11
ASIG proposed SSc-PAH screening algorithm11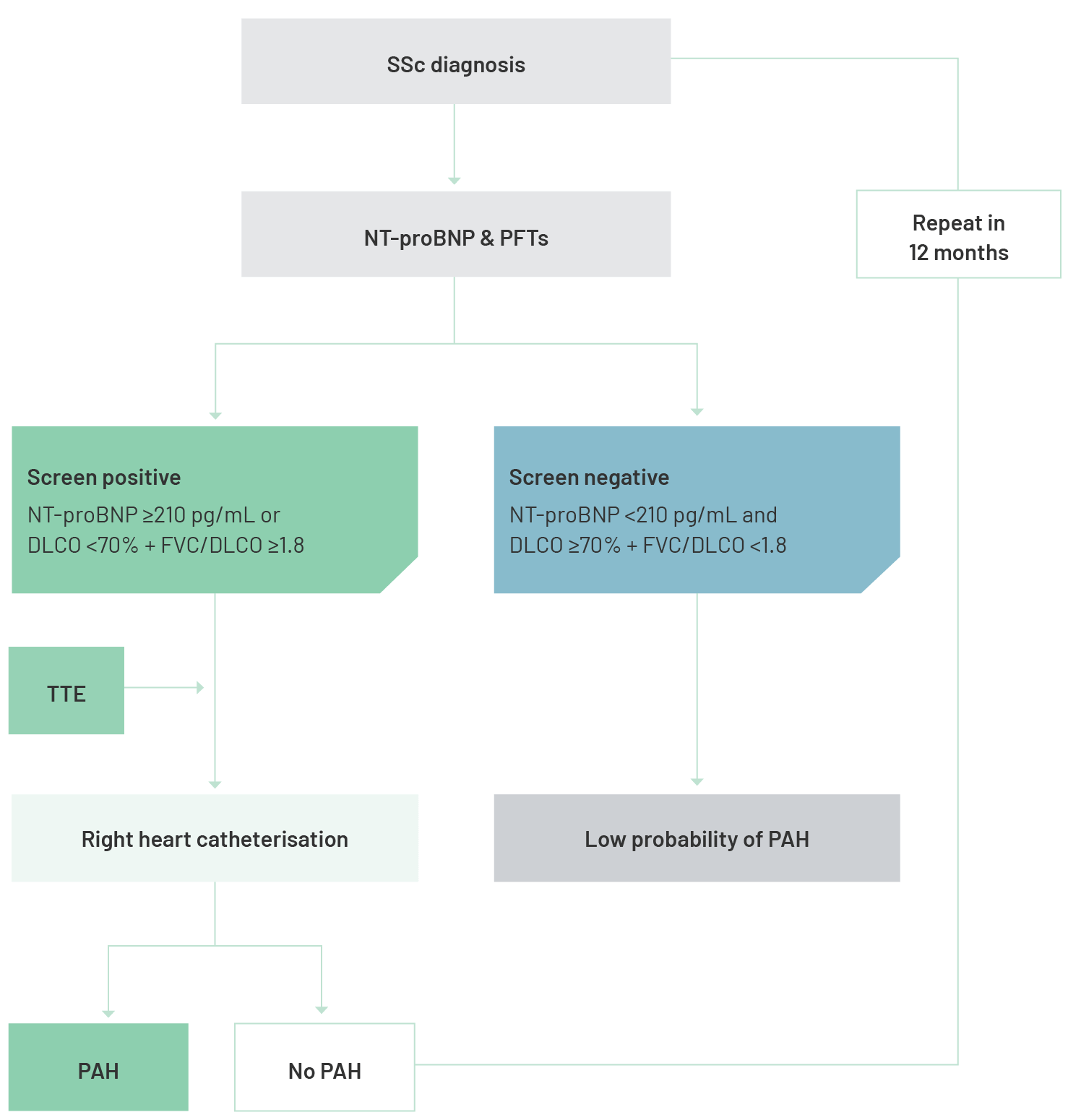 Adapted from Quinlivan A et al. 2015.11
Congenital heart disease (CHD)
PAH is a well-recognised complication of congenital heart disease (CHD) and is associated with increased morbidity and mortality.12

Advances in cardiovascular treatment and surgery have enabled patients with CHD to live longer, leading to an increase in the number of patients developing PAH in later life.13
CHD affects around
4-50
per thousand
live births.14
Approximately
5-10%
of adults with CHD
develop PAH.15
CHD represents around
10-23%
of all cases
of PAH.16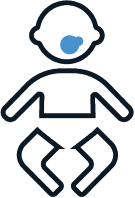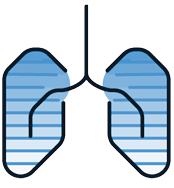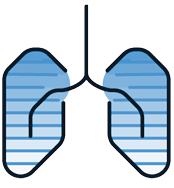 GUIDELINE RECOMMENDATIONS FOR PAH MANAGEMENT IN CHD


---
It is important that adult CHD centres refer patients to a specialist PH service that can provide access to complex therapies and routinely assess exercise capacity and quality of life. A clear referral link with a PH expert centre is vital to achieving a standardised approach to care.1
Footnotes
ASIG: Australian Scleroderma Interest Group; CHD: congenital heart disease; COPD: chronic obstructive pulmonary disease; CPET: cardiopulmonary exercise testing; CT: computed tomography; DLCO: diffusing capacity of the lung for carbon monoxide; FBC: full blood count; FVC: forced vital capacity; NTproBNP: N-terminal pro b-type natriuretic peptide; PAH: pulmonary arterial hypertension; PFTs: pulmonary function tests; PH: pulmonary hypertension; SSc:systemic sclerosis; TTE: transthoracic echocardiography; V/Q: ventilation/perfusion.
---
References
Humbert M et al. Eur Heart J 2022;43(38):3618–3731.
McGoon MD et al. J Am Coll Cardiol 2013;62(25 Suppl):D51-5.
Karnani NG et al. Am Fam Physician 2005;71:1529–37.
Ferry OR et al. J Thorac Dis 2019;11(Suppl 17):S2117–28.
Yang IA et al. COPD-X Concise Guide, 2019.
National Asthma Council. Australian Asthma Handbook v2.1, September 2020.
Thakkar V et al. Intern Med J 2015;45:248–54.
Hao Y et al. Arthritis Rheum 2016;69(5):1067–77.
Morrisroe K et al. Arthritis Res Ther 2017;19:42.
Humbert M et al. Arthritis Rheum 2011;63:3522–30.
Quinlivan A et al. Intern Med J 2015;45:1134–40.
D'Alto M and Mahadevan V. Eur Respir Rev 2012;21:328–37.
Van Dissel A, et al. J Clin Med 2017;6(4)pii:E40.
Hoffman JI and Kaplan S. J Am Coll Cardiol 2002;39:1890–900.
Diller G and Gatzoulis M. Circulation 2007;115:1039–50.
Lau E et al. Nat Rev Cardiol 2017;14:603–14.